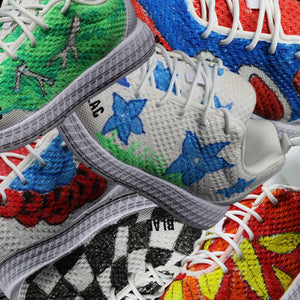 Our Fresh Ink range is our first limited edition artist collaboration! This exciting initiative see a Canberra local artist directly designing fun artwork on our OG Hemp white kicks. 
The Artist Leafy Sea Dragon Artwork has created six creative Canberra focused designs for you to choose from. 
Delivery of all designs are expected to be approximately 6 - 8 weeks, to allow for time for the artist to work on your personal pair. We will keep you updated on the progress of your art work as it is created. 
Please email hello@blacsneakerco.com.au with a short paragraph asking the type of design you would like the artist to work with. If you are not sure you can let the artist just do his thing, or provide some input for the type of work you would like.